Main options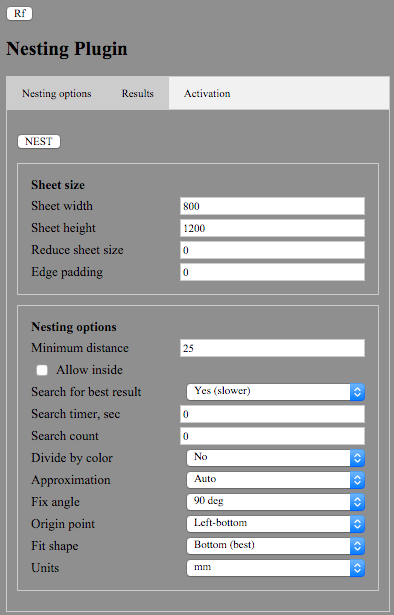 Sheet width and height - size of material.

Reduce sheet size - you can reduce all sheet sizes (L,R,T,B).

Edge padding - allows you to set empty space between nested objects and sheet boundbox..

Minimal distance - minimal distance between two shapes that can be achieved.

Allow inside - let function to put small objects inside big ones.

Search best result - let function to make few results and show only best (slower).

Divide by color - allows function to place shapes according to their colors. (No; On different sheets; On same sheet; On same sheet without mix)

Approximation - quality of approximation. (Auto; High; Middle; Low)

Fix angle - let function to prevent rotation (No, 90, 180, Do not rotate)

Origin point - nesting origin point.

Fit shapes - how to nest.
Results tab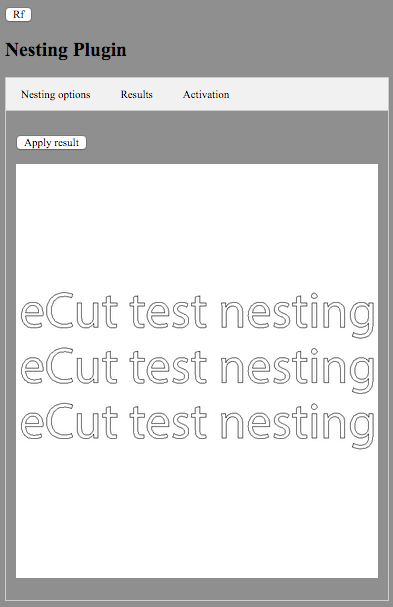 Here you can see last result that was made by plugin.
Press APPLY RESULT button to apply result.
Unfortunately you can not zoom in or zoom out view. But anyway you can see result as it will be when you'll press Apply button.
Activation tab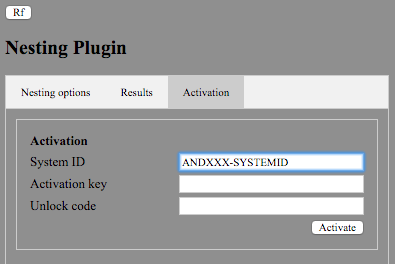 Use this tab to activate plugin.
If you have internet access - enter your activation key and press Activate button and plugin will activate itself automatically.
But if you have no Internet access, or you have error message while activating plugin using activation key - then use Unlock code field. Enter your unlock code and press Activate button.